Hello! Do you remember me? Scottish writer? Always eating toast and posting pictures of cake? Spends a lot of time on trains and planes lately? Blonde hair entirely impervious to any form of styling? You do? Good stuff. I'm writing this in a café in Sarajevo (I am totally in love with it here but that's a story for later) where I've just smashed a little chocolate croissant and I'm trying very hard, and failing, not to sing along to Beyonce.
So what've I been up to during this, even by my standards, epic blog lapse (I can hear some social media guru whispering in my ear 'it'll seal up if you leave it any longer, love' (yeah, my fantasy guru is camp and from Yorkshire)). Well, I thought I'd give you a rundown of the last six (sorry, sorry) weeks in words and pictures. I seem to remember that's how these blog things works.
So, August was the month of Thirst, Cambridge and London. Most of my time was either talking about Thirst, travelling to talk about Thirst, supervising with NAW at Cambridge Summer School at Pembroke College, travelling to Cambridge, reconnecting with my London life (see squeezing in multiple breakfast, lunch, dinner, drinks into one day where my friends and I basically emptied our heads to each other) or trying to write, read work to feedback on and, with help from our brilliant volunteer and fellow-writing Ciara, keeping WoMentoring up and running.
Anyhow, here's the stuff I would have written about if I had not being already operating at 120% of my actual capacity for doing All Of The Stuff…
Hull
I started by doing one of the bestest (it's a word) events I have ever done. Head in Book in Hull is organised by Shane Rhodes (Director of Wrecking Ball Press and all round Hull Culture Mogul) and it was the mighty Russ Litten, hugely talented writer of Scream if you Want to Go Faster and Swear Down, asking the questions. Russ and I have known each other for a couple of years on the tinternet and, as I wrote in his copy of Thirst I admire him hugely, but it was grand to meet the man himself for the first time. And because we have a similar world views, and it felt like chatting with a good pal, the event was the best sort of event. It was packed, there was wine, there were tons of questions and then people bought books and came and chattered – I met so many bloody lovely folk too. If you look very closely above those to tiny shiny circles are mine and Russ's mugs.
The good
Fucking all of it…it was just an ace visit to the fine City of Culture 2017, Hull and be so warmly welcomed.
We shall never speak of it again
Realising, about forty minutes into the train journey home, that I was about to be smited with a hangover of biblicial proportions (though the nice girl in the buffet car did give me a free cake to celebrate the publication of my book).
Wilderness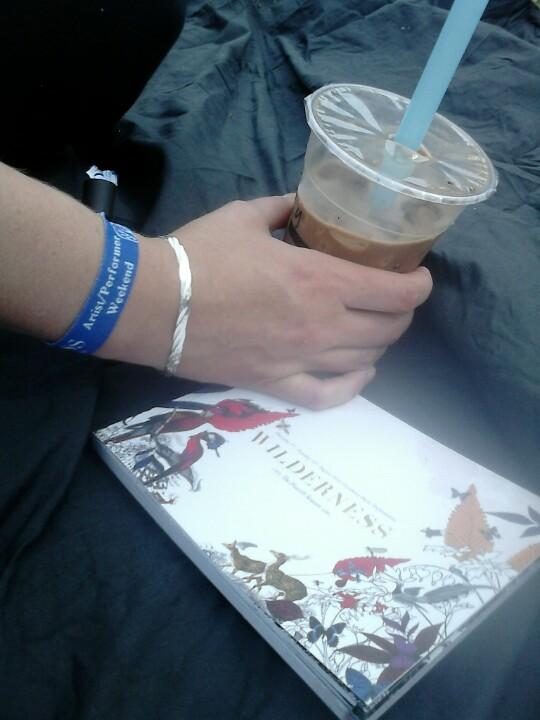 I've wanted to get a gig at music festival for a long while. The perfect mix of work and play and an audience who are mostly drunk or sheltering from rain and therefore either cheery or captive. So off me and my ex-wife went for a weekend of amicable lesbian divorcee camping. My event was with the fucking outrageously talented Deepti Kapoor (her book, A Bad Character, is one of my picks of this year) and the always excellent Susannah Otter and was a workshop On Getting Published. It was pretty packed out, we talked about our journeys to books on the shelfs. The questions from the audience were what they often are 'is it possible to live on writing alone' (barely but there are ways and means (jaysus, that sounds sinister)) and 'I feel like I can do it but I'm scared to start' (You can! You can…look at me…if I can…etc). Afterwards I signed a lot of books (one girl bought one as a present for her boyfriend – sweet!) and had some bloody lovely chats an all.
The Good
Prides (they are brilliant and are going to be huge – get on it now), The John Langan Band, front of the stage at the inestimable Joan as a Policewoman set. Also bonfires and more 'artisan' cheese toasties and crumpets than any woman should consume in a weekend (the food is corking at Wilderness).
Things we will never speak of again
The rain. So much rain, guys. And the poshness. So much poshness. As one fellow-author remarked 'It's like gatecrashing the biggest ever Oxbridge ball.' True dat.
Speakeasy
This was my second time at Speakeasy, the excellent literary night run by Ian Ellard and Nicki Cloke that takes place at Drink, Shop, Do each month. I was reading with the all-lady line-up Sarah  Perry, Hannah Vincent and Emmi Itaranta - all of whom read stunningly. There are cocktails (though I always drink little bottles of IPA for fear of slurring when I read), it's in this gorgeous basement bar, you wear something a bit dressy (I.e. If you're me, you get to get out of gym kit or pajamas) and lean against a bar to do your reading. I love this night, the hosts and the venue. Not just because I thought I'd just do a short reading, as was at the end of the night, and got shouted at for some more. And not just for those little bottles of IPA or the fact on my way home I stopped for frozen custard. Before I was a writer this is sort of what I imagined being a writer would be like. And that's because Nikki and Ian are writers too and so they know this and they put on a very fine bash with hip literary crowd.
The Good
Getting a whoop from the crowd for my character Dave's love of the humble Breakway biscuit. Getting a proof of Nicci's new novel Lay me Down (I have read the beginning so far and will collect it from my pals house when next back in London…it is truly outstanding so far). Sarah Perry and Peter Moore practically marching me off to Gladstone Library – apparently I have to go immediately (after Sarajevo).
Things we will never speak of again
Because I'm fairly relaxed about readings this being my second round of this stuff, I sometimes forget myself. That is how, mid-reading, I found myself unthinkingly in 'tree pose' (think flamingo…) like I do absent-mindedly while doing the dishes sometimes. It's not a good 'I'm a proper author' look, guys.
So, that was the first twelve days of August and that didn't include Cambridge and catching up with pals and the 1.3 million emails…so, do you see? Do you see why I haven't been in touch and why I arrived in the Balkans looking and sounding like Iggy Pop on a bad day…and just you wait to hear what happened from the 12th to the 30th…go on, yer a wee bit curious, admit it (there's a trifle story if that adds to anticipation…).