Oh hello. Sorry. I've been meaning to write this post for a week. Instead I have been doing lots of other types of writing (more of which later) and travelling back from beautiful Berlin to London for the next six weeks oh…and yes, launching my second novel, Thirst, just over a week ago and trying to not Completely Lose My Shit (with varying degrees of success - also more of which later).
I think most of the people who read this already know there is about a year and a half gap between selling a book (and that only happens after you've spent at least a year writing it) and it hitting bookshelves. Plus this is a second novel and a very fatalistic voice (sounds like a mean-drunk Bill Nighy (though I hasten to add I'm sure Mr Nighy is an excellent drinking partner)) is saying 'if you fuck this up, if this fucks up, you don't get to publish a third' - which is maybe or maybe not true depending on ho many internet articles you read and your state of mind (I have read approximately 2683). Anyway, my point is there's a bit of a build up and then, there it is happening, you've got a book in the shops and Other People are reading it and talking about it.
So, how did it go? Well, pretty bloody all right I think. The most scary thing about having a book out (for me…) is the very public nature of any criticism it receives. But actually, what I've felt instead is just such a massive amount of well-wishing, warmth, support and general g-ing up. And while most days for the last few week I've been on an anxiety rollercoaster - oh, look! A great review! Pass the gin! They say I'm here to stay. Maybe I am! I should get back to writing my third Ach but this one says they like Dave/Alena/Hackney/Siberia better than Dave/Alena/HackneySiberia…my career is over. What's that temp agency's number? Pass the gin! I can learn to touch type…and on and on in a high-pitched loop…- it's also been amazing feeling like people are willing Thirst to do well
Yeah it's a can of Pina Colada…sing me a song about it…I also like getting caught in the rain. 
And things have been good. I made sure they started good by making my publication gift to mesel' a ticket to Brazil (on impulse, which I could maybe/maybe not afford and probably can't actually but fuck it…so first the Croatian coast, then Sarajevo, then three months in Brazil, Paraguay, Argentina). When I have felt Losing My Shit was imminent I reminded myself to 'work hard, be kind, don't be an arsehole'…this is all I can ask of myself. And then I had a strong drink and ate something sugary. I also realised, pretty much as soon as I got back to London, that (holy shit!) it was happening so I might as well enjoy the crap out of all the exiting stuff. 
And then? Then all of this happened… 
I wrote about:My travels across Siberia // Writing routines // Being working-class // The WoMentoring Project // Falling in love on Charing Cross Road // The terrors of writing your second novel // My favorite vintage things (but also how I'm not really into 'things') // Alena and how I conjured her and her fox's fur hair and baby shark teeth // how many people it takes to launch and make a novel
And I answered many, many questions…
On my Thirst soundtrack // On gin or tequila // On the intersection between love and need // On my favourite word (cunt, clearly) //On my ideal boozy dinner party // And…how I remind myself not to be an arsehole every day (singalong! you should too!)
Oh and I did a live interview on the BBC Scotland Culture Show with him from that there Deacon Blue where I *lost the ability to read the own words*…(I blame the fan-girl-itus) and an interview for The Observer.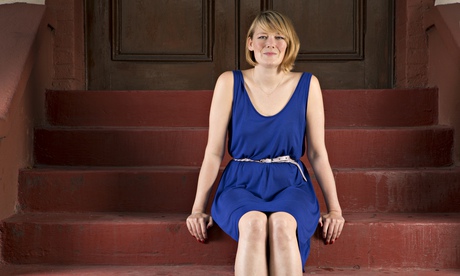 And yep, the reviews came…here I have to say a particular thank you to the internet reviewers who God bloody bless them made sure my publication week was full of lovely exciting stuff each and every day. What was interesting about both the online and print reviews was how much the interpretation changed from reader to reader. In a way that never happened with Tony Hogan people related to and felt strongly about different stands of the story…I hope that's because it's a more complex story (it is) but whatever, it's fascinating for me to read people's varying interaction with the story.  
And so yes, there were *blush-making-a-bit-teary-punch-the-air* reviews from Sara at A Salted, Eric at Lonesome Reader, Thom at Workshy Fopp, Helen at Fiction is Stranger than Fact, Dan at Utter Biblio, Simon at Savidge Reads, Naomi at The Writes of a Woman and Jessica and Writer's Little Helper. All people and reviewers who I enormously respect.
And yes…then there The Papers and Mags…and here what they said…
'It explores the lives of people not generally considered fit for literature and does so with wit and a shrewdness that makes Hudson's subjects zing from the page.' (Louise Welsh, The Guardian)
'…an exquisite, stimulating mash-up…A brilliant, enthralling saga' (Joseph Crilly, The Irish Times)
'Funny, inventive, delightful.' (Viv Groskop, Red Magazine 10 Best Summer Reads) 
'Fresh and original…it's an unsentimental love story' (Sam Baker, Harper's Bazaar Best of British Reads)
"Tremendously affecting… impressively unostentatious in its instinct for a common story within a city of millions that never gets heard" (Claire Allfree Metro)

"Kerry Hudson has consolidated her position with this second novel as a writer who is prepared to face the injustices and the grimness of life, and tell of lives usually ignored… Thirst is hardly an easy summer read… but it is probably an essential one" (Lesley McDowell Scotsman)

"A classy will-they won't-they romance with a difference… Sheer escapism from start to finish" (Bella)

"Both funny and touching… Hudson's debut was highly praised and this is a terrific follow-up" (Woman & Home)

"As the last few chapters crescendo into a breathless, sob-inducing finale, Hudson marks herself out once again as a terrifically talented storyteller who, luckily for us, is here to stay" (Yasmin Sulaiman List)
So basically what I am saying is 'holy fuck, that was a few weeks and a half and..THANK YOU lucky stars, readers and bloody lovely folk'.
I'm off to have a can of Pina Colada.